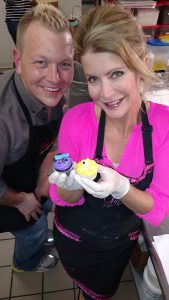 I want to shed a spotlight on a special member of the Gigi's family – Brad Harlan.  Having served as manager of the original Broadway shop for over five years now, Brad plays a valuable role in the spirit and story of Gigi's Cupcakes.
Our friendship started over 11 years ago, and we have LeAnn Rimes to thank for it.  I was cleaning her house and Brad was working as her assistant.  Because LeAnn was always on the road touring, I got to know Brad very well.  We spent 10 hours a day together, two days a week.  As I would clean, we would sing songs, laugh, talk, cook, and share our lives and dreams with each other. I very quickly became best friends with a man who has a sensational sense of style, an astonishing attention to detail and a stunning, serving heart. He is truly a gift from God.
One day, Brad shared with me that he decided to move to Texas and work for another artist. I told him, "Our paths will cross again someday, friend. Who knows? Maybe one day you will work for me."
Years later, when I first decided to open Gigi's Cupcakes, Brad was one of my only friends who didn't think I was totally out of my mind. After I opened Gigi's, he would come into town on vacation and I would put him to work!  When he moved back to Nashville, of course I offered him a job at the shop. Brad is such a natural leader and manager – he made running the store a piece of cake!
Since laughing in LeAnn Rimes' living room with one another, Brad and I have shared many sweet and cherished memories.  We have traveled the country together for speaking engagements and new store openings.  With each trip, Brad and I would brainstorm ideas and develop new cupcake recipes.  There was never a dull moment!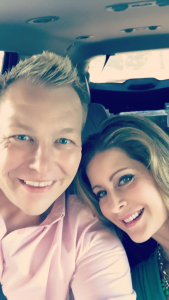 Recently, when Gigi's Franchising needed a new Research and Development person, like a pound cake in the oven, Brad rose to the occasion. Talent like his should not be wasted.  I am so excited that Brad will serve as the newest member of our Research and Development team in Fort Worth, TX.  I can't wait to see what this next season has in store for him!
On our last road trip to Missouri, Brad and I rolled down the windows and blasted "Dixieland Delight" by Alabama. As we drove through the cornfields and countryside, singing the song at the top of our lungs, I remembered all of our years of car ride brainstorming sessions, songs, dance parties and pure friendship.
There are friends in life, and then there is BRAD.  He has and always will be one of my best friends and part of my family. My daughter even calls him Uncle Brad! As I helped him pack his car and watched him hug my daughter goodbye, I had a bittersweet feeling.  I will miss him being a part of my day-to-day life, but I am thrilled for his new position and the possibilities that await him.
Brad, you have made my life so much sweeter!
Blessings,
Gigi