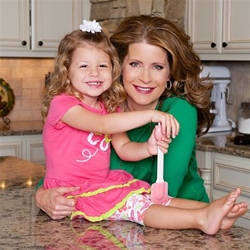 As my daughter continues to grow and become her own person, I'm so blessed to be able to be part of it.  It's such a honor to be called a mother.  Being a single parent isn't easy, but I've found that most things in my life that are hard are also some of the most rewarding.   I often say that she is absolutely the best thing I've ever made and I'm reminded of that as Mother's Day approaches.   
Some of the most special moments for me is when we are reading books, dancing together, in the kitchen cooking or when she laughs at something that she thinks is really funny.   She has given me such incredible joy that I haven't known before.     
The other day she said "Mommy, I think I am going to be a doctor when I grow up!"      
That statement almost made my heart burst.  Who knows what she will end up doing, but as long as she is happy and living out her destiny of what God has planned for her, I will most certainly be happy.  Until then she will learn the family business.  One of my most favorite times is when we are at the cupcake shop together and I know it won't be long until she's in the kitchen for her summer job and helping the staff to bake the most incredible treats.   
Thank God for little girls and boys…. and mothers who love them!    May you cherish the children in your life!   
God Bless and Happy Mother's Day!   
– Gigi