There is not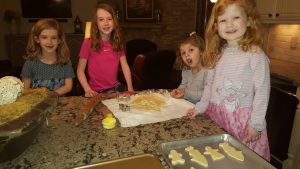 a lot that tastes better than a homemade cookie baked with love. I always use my great grandmother's 100-year-old sugar cookie recipe that has been passed down through my family for many years. Many hands have made it, but it always amazes me that a recipe can still bring so much joy… and taste delicious!
Tonight, I made these homemade sugar cookies with my sweet daughter and her precious friends. As I rolled out the dough, they cut it into fun shapes, laughed and sang together. I think they ate more dough than the baked cookies! But that didn't stop them from decorating the warm cookies with icing and sprinkles.
What a blessing it was to bon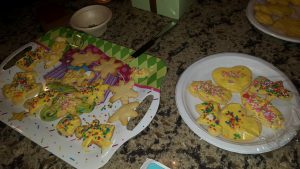 d over a simple recipe – a little flour, sugar, butter and a whole lot of love. I cherish every little memory with my daughter. When she grows older, I want her to remember all the good times we had in the kitchen baking, cooking, laughing and singing. I look back fondly on my days in the kitchen with my family and I am so grateful that I have the opportunity to share this joy with my daughter. This will be one of my legacies of love I leave her.
I hope this recipe brings you as much joy as it has brought us. Enjoy!
Blessings,
Gigi
My Great Grandmother's Sugar Cookie Recipe
In a mixing bowl:
2 eggs
1 cup powdered sugar
1 cup butter Crisco
2 sticks of butter
1 cup granulated sugar
1 tsp cream of tartar
1 tsp baking powder
4 ½ cups flour
1 tsp vanilla
Mix and beat well for one (1) minute.
Put in the refrigerator for one (1) hour to chill.
Roll out the dough and cut into shapes. Place the shapes on a greased baking sheet.
Bake at 350* for 10 to 12 minutes.