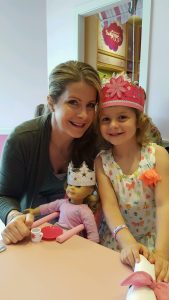 My daughter is turning five this month and one of the activities she really wanted to do was go to the American Girl store to look around and have lunch at their adorable café.
So we decided to make a day of it and invited some of our friends to join us in the adventure.   Along with having great food, they have a unique atmosphere.  They have chairs for the dolls to sit in, tea cups for the dolls as well as bows and crowns for your child and their doll.  It's truly an experience.  You can also order a small and/or large cake, depending on the size of your party, to help you celebrate your occasion.  Our cake had white frosting with a light pink ribbon and her name on it.  It was absolutely delicate and delicious!   She was smiling from ear to ear and that made me smile.
The best part of it, is that her special cake was a custom Gigi's cake.   As you may know,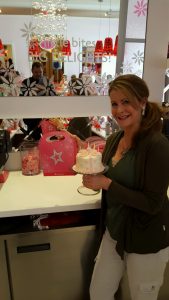 Gigi's Cupcakes makes beautiful, fresh custom cakes for our customers on a daily basis.  It just so happens that American Girl is one of our customers.   We bake custom cakes and deliver to the American Girl store on a daily basis in several of our markets.   In fact, I can't think of a better company to partner with than American Girl.    So, whether you're in Nashville, TN, Columbus, OH or Orlando, FL, next time you have a party at American Girl, enjoy your Gigi's cake and let us know about your experience!   Thank you American Girl for believing in Gigi's Cupcakes and allowing us to spread joy to your customers as well.
Blessings,
Gigi