My favorit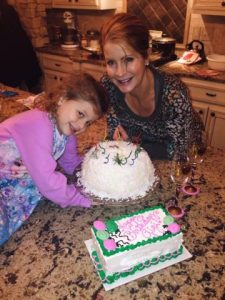 e birthday celebration is one spent with those closest to me. This year, my birthday was extra special because I celebrated with family and dear friends.
The recipe that brings me the most joy on my birthday is my Great, Great Aunt Birdie's famous fresh coconut cake with lemon pineapple filling – my absolute favorite dessert. The recipe dates all the way back to the 1800s and holds precious memories for my family. My Aunt Birdie would make it for my mom every time she came to visit and my mom has made it for me for years.
This mouth-watering cake is a labor of love, but well worth the effort! This year, I was so excited to have my daughter participate in making it. The cake is my favorite, but the time we spent as a family preparing it is more than I could ever ask for.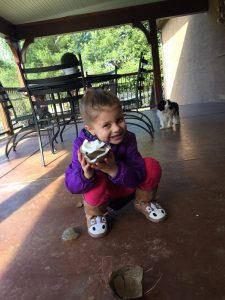 The secret ingredient to this cake is using a fresh coconut. The first step is poking two holes to drain the milk out of the coconut. Keeping the milk for the cake is what makes it so deliciously moist. Then comes the fun part – breaking the coconut! This year, my daughter took it onto the porch and slammed it into the concrete over and over again until it finally broke into little chunks. I think the coconut was bigger than she was but that didn't stop her!
The combination of this labor of love, the fresh coconut and the fruity
lemon pineapple filling makes this cake one-of-a-kind. I don't know what was sweeter, watching my daughter's joy when she helped us make this cherished recipe, or sharing the first piece with her. This year, I was overwhelmed to look back and remember all of the wonderful blessings I have received over the years. This recipe makes a great cake, but it makes for even greater memories. I look forward to continuing this tradition and making new memories with my daughter for many birthdays to come.
Blessings,
Gigi